TDG Aerospace Inc
TDG Aerospace creates dynamic air safety solutions for the aircraft and aerospace industry. Specializing in the development of cutting-edge products that prevent fire and ice, TDG provides solutions that help airlines save money, improve safety, ensure compliance and greatly reduce delays.
Headquartered in San Diego, CA, TDG Aerospace was founded in 1990 with the mission of providing the most advanced and cost effective safety solutions to the commercial aviation industry. Today, TDG's products are recognized by airline executives, engineers, pilots, maintenance crews and industry analysts for their superior technology, ease of installation and rapid return on investment.
Market Specialization
TDG Aerospace is focused on helping major air carriers prevent problems associated with fire and ice on their aircraft. By utilizing proven technology, TDG products are designed to ensure a safer and more cost efficient aircraft, which ultimately allows air carriers to save money through greater fuel-efficiency, lowered maintenance costs and faster turn times on the ground.
The NOFOD™ & WarmWing™ Clear Ice Prevention Systems
TDG's Clear Ice Prevention Systems are designed to prevent the formation of non-environmental, cold soaked wing ice. During prolonged flights at cruising altitudes, fuel in the wing tanks becomes super-cooled and begins to chill the upper surfaces of the wing. Upon landing at airports in moisture rich climates with ambient temperature above freezing, the moisture will freeze on the wing surfaces and form a thin layer of nearly invisible ice.
TDG's NOFOD™ and WarmWing™ products prevent the formation of clear ice by providing a continuous source of heat to the upper surfaces of the wing while the aircraft is on the ground. The system consists of two over wing heater blankets that the pilot activates upon landing. NOFOD is designed for use on rear engine aircraft, while the WarmWing is currently being developed for aircraft with thin profile wing designs, such as the 737 NG.

FAA Compliance
The NOFOD system serves as the primary means of compliance with FAA's Air Worthiness Directive # AD-2002-21-06 (STC SA6042NM). The system has been installed on the entire MD-80 fleets of American Airlines, Alaska Airlines, TWA, Delta, Aeromexico and Midwest Express.
Universal Fault Interrupter (UFI 3000)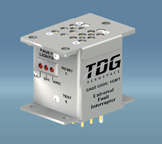 In addition to ice prevention solutions, TDG has developed a Universal Fault Interrupter that protects an aircraft's electrical systems and components from electrical arcing in and around critical areas. The UFI 3000 acts immediately upon fault detection by instantly removing power from the affected area and shutting down the circuit before an arc occurs. This patent-pending technology was developed by TDG and is the first of its kind to detect and continuously prevent line-to-line, line-to-ground and arc faults simultaneously. The UFI 3000 will assist airlines in complying with SFAR 88 and can be custom-programmed to operate with varying loads and fault detection scenarios.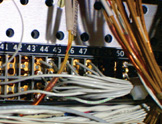 Smart Ways to Prevent Delays
TDG is an innovator in flight safety. With our proven solutions, TDG helps airlines improve safety, ensure compliance with FAA regulations and greatly reduce delays. On the ground and in the air, TDG products make commercial aircraft more cost-effective to operate and safer to fly.