J & S Franklin Ltd
J & S Franklin Ltd was founded in 1946 and has nearly 60 years' experience in the manufacture and supply of a wide range of defence and security equipment for governments, defence forces, security forces, NGOs and commercial customers all over the world. Franklin manufactures shelter tents for accommodation, command posts and field hospitals; NBC tent liners; webbing and PLCE; camp beds and mosquito nets; camouflage nets and clothing.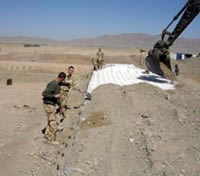 DefenCell deployed in Afghanistan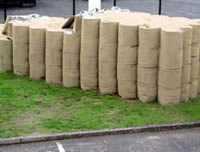 Wall Systems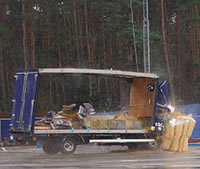 Vehicle Barrier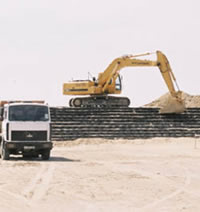 Flood Protection
DefenCell - new generation force protection
Designed by Engineers for Engineers, and developed by J & S Franklin and Terram, DefenCell meets the need for a lightweight, compact, easily deployed range of defensive protection systems.
DefenCell combines established geocell design with the latest geotextile construction technology to provide an innovative, practical and versatile multipurpose system. DefenCell has been successfully used to provide force protection to military personnel and facilities in a number of demanding operational situations.
The DefenCell Wall System has been developed to enable force protection walls to be built very rapidly in operational conditions. Successive layers of DefenCell are built to the desired height.
Walls of any thickness or length can be produced to suit ballistic and vehicle impact requirements. The vertical nature of the walls makes them difficult to scale. A wide range of locally available fill materials can be used, including wind blown sand, and easily compacted to give DefenCell structural strength and integrity.
DefenCell is made from strong, durable and internationally proven Terram geotextile material; is lightweight, non-metallic, man portable and compact. The outside of the walls are painted to suit local conditions or treated to meet customer requirements.
Barriers
DefenCell is ideal for a wide range of security applications, including vehicle barriers, guardpost protection and checkpoints. It is lightweight and easily installed using locally available fill materials, even with variable or mixed fills to suit different threats. The system is very compact and can be stored and hand carried for rapid deployment in emergency and operational conditions. DefenCell can be deployed vertically, unfilled, to provide containment barriers.
Perimeter Security
DefenCell is designed to be employed to provide perimeter security in many situations, from enhancing existing security systems and fences, to providing structural integrity to long perimeter barriers. DefenCell can be built to virtually any height and profiled to provide protection against specific threats.
Flood Protection
DefenCell uses established geocell technology and can be utilised for a selection of civil and emergency flood protection applications. Terram geotextile material drains easily and water will soon filter from wet fill to leave a solid protective barrier.

MoD shelter tents showing modular sections.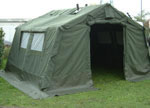 Modified shelter for Operational Field Catering System (OFCS) contract.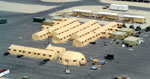 Base-X field hospital.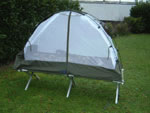 Cot mounted mosquito net and camp cot.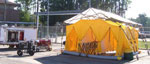 Base-X quick erect NBC decontamination shelter.
MILITARY AND DECONTAMINATION SHELTERS, CAMP EQUIPMENT AND CAMOUFLAGE
Franklin is the UK and European distributor for the Base-X range of rapid erect tactical shelters and NBC decontamination shelters made by Bea Maurer Inc in USA.
TENTS, SHELTERS AND OPERATIONAL FIELD CATERING SYSTEM (OFCS)
Franklin is the main supplier of standard shelter tents to the UK MoD, and has recently been awarded the contract for the modified shelter for the Operational Field Catering System (OFCS). The contract, for over 2,000 shelters and accessories, is worth nearly £3million over three years. In close cooperation with the MoD, Franklin have planned an accelerated delivery programme to meet current operational requirements.
The operational field catering system shelter is based on the standard 12ft x 12ft shelter tent, modified with heat-resistant fabrics and cutouts in the roof for the OFCS cooker chimneys. The operational field catering system shelters will be used operationally to house the OFCS modular cooking equipment supplied by Karcher.
SHELTER TENT SUNSHIELDS
Franklin also have the contract to supply the sunshields to the UK MoD for the shelter tents. The sunshields form a secondary roof and provide a layer of protection to the shelter from the effects of the sun, considerably reducing the temperature within the shelters.
BASE-X SHELTERS
Base-X expedition shelters are the world's most advanced quick-erect shelter system. The innovative Base-X shelters have been deployed in military and non-military applications all around the world, including some of the world's harshest environments.
The modular design and range of sizes make the Base-X system ideal for command posts, mobile medical centres and field hospitals.
Base-X is distributed and supported by Franklin in the UK and Europe.
NBC AND EMERGENCY DECONTAMINATION SHELTERS
Base-X quick-erect shelters are ideal for emergency services - the three-lane mass NBC and emergency decontamination shelter is supplied complete with electrics and plumbing and can be deployed in less than ten minutes.
CAMP EQUIPMENT, CAMP BEDS AND MOSQUITO NETS
Franklin make camp beds and mosquito nets in a range of models and sizes. Franklin provided 5,000 camp cots at short notice for the Temporary Deployable Accommodation (TDA) project as part of Operation Telic, and have recently been awarded the contract to supply the cot mounted mosquito net to the UK MoD.
CAMOUFLAGE NETS AND SYSTEMS
Franklin produce camouflage nets to standard patterns or to suit the requirements of our customers. Camouflage nets can be designed to fit particular vehicles or weapon systems, using lightweight pole and 'mushroom' supports.
Franklin is often the chosen partner to give a complete turnkey service, using it's extensive facilities to deliver a single source supply; combining rapid response, experience and confidentiality to provide economical, secure and effective solutions, on a global basis. We are experts in the provision of specialised turnkey operations, drawing together the many components needed to satisfy our customers requirements; the latest and most suitable equipment, experienced support personnel, full training packages, secure packaging and delivery services and, when necessary, finance, counter-trade and insurance.
The company was proud to be awarded the 'Queens Award for Export Achievement' in 1996, and is a member of the Defence Manufacturers Association (DMA), the Association of Police and Public Security Suppliers (APPSS) and NBC UK.
J & S Franklin operates a strict internal quality management system and is externally assessed to ISO 9001:2000.