Denel Dynamics
1. Nearly 40 years of investment, innovation and hard-gained experience have placed Kentron, part of the Denel Group of companies, in the forefront of aerospace technology in South Africa, making Kentron an important player in the international defence market.

2. As part of the Denel Group today, Kentron is a pivotal player in the establishment and retention of an important technology base and infrastructure in South Africa, as well as a major contributor to the economy, with an export sales ration of more than 70%.

3. To streamline its activities, Kentron has been divided into three business units, each with its own range of products, namely Kentron Dynamics: guided missiles and stand-off weapons; Kentron UAV Systems: surveillance systems and target drones and; Cumulus: optronic systems.
KENTRON UAV SYSTEMS
4. Kentron UAV Systems has been in the forefront of unmanned aerial vehicle design and development since the early 1980's. Kentron UAV Systems now focuses on these core competencies, which include aerodynamic design, ground control station design and a comprehensive composite material structures capability, as well as total system design.
Our Vision
5. Our vision is to create prosperity for our owners and people by being a recognised UAV supplier of selected systems and services to satisfy clients in focussed markets worldwide.
Our Products
Seeker II Unmanned Aerial Vehicle (UAV) Surveillance System
6. The Seeker II unmanned aerial vehicle (UAV) system is the flagship of Kentron UAV Systems products. It is designed for real-time reconnaissance, target location and artillery fire control at distances of 250km, with an extended range capability, increasing operations to 500km.

7. The Seeker II tactical UAV system demonstrates the highest degree of flexibility in the utilisation of Unmanned Aerial Vehicles to support Artillery during operations. Rapid deployment, ease of operation, reliability and limited logistic support requirements for the Seeker II system, make this state-of-the-art, digital system, a first in its class for the Artillery Commander.
Fig 2: Seeker II UAV in flight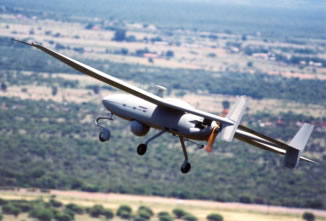 Skua High-Speed Target Drone
8. Modern aerial engagements call for rapid response and times and accurate weapons direction. By simulating high-speed aircraft and missile attacks, the Skua high-speed target drone is able to test air defence systems to the maximum.

9. Skua is designed to operate autonomously up to a range of 600km and this feature, coupled with its modular configuration, allows for cost-effective bare-site deployment. In addition, a flexible payload capability allows for optimal configuration of the system to meet almost any training and evaluation requirement.

10. Skua has been successfully deployed since 1992, and has also been used as a target service by some of the world's leading air forces, as well as manufacturers of guided missiles.

Seraph

11. Seraph is a new-generation, high-speed, mission-adaptive drone, that incorporates the latest low-observable technology.

Being an independent developer and supplier of UAV systems, Kentron UAV Systems can offer a unique dimension in the field of UAV acquisition. Not only does Kentron UAV Systems offer complete tailor-made UAV systems, but by using the extensive experience in UAV development, manufacture and operation, we can assist a prospective customer to design his own system and participate in the execution of the project.