ECA
ECA ROBOTICS

Design and manufacturing of Unmanned Ground, Surface and Underwater Systems for inspection and intervention tasks in the context of Defence, Security, Nuclear & Chemical Industries. Main aim of the developments is to spare humans involved in life threatening missions such as Mine Warfare, EOD/IEDD, conflicts, terrorist threats, hazmat, handling of nuclear power waste and deep offshore operations.
LAND ROBOT PRODUCT RANGE
Consists of Mobile Ground Robots from 5.6 to 125 kg.
Tactical First Response Multi-Mission UGV COBRA MK2
Typically designed for tactical first response in urban warfare and Homeland Security, COBRA MK2 has been successfully deployed in Afghanistan. Fighting against Improvised Explosive Device (IED), it carries out a multitude of missions such as Neutralization, In-telligence, Surveillance, Reconnaissance (ISR) as well as Chemical & Radiological threats. It increases situational awareness, indoor and outdoor.
Characteristics: Size 364 (L) x 392 (W) x 170 (H) mm; weight 6 kg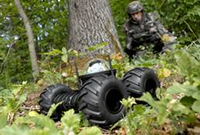 Lightweight modular UGV - Cameleon, for EOD/IEDD detection and neutralization, bomb disposal, Render safe, CBRN detection and heavy duty operations. Main users: police, military. Dedicated Cameleon EOD version. Modular architecture for fast reconfiguration, large choice of existing sensors. Designed for use in urban areas, ports, airports, on aircraft, on subways etc.
Characteristics: Size 670 (L) x 500 (W) x 190 (H) mm; platform weight 27 kg.
EOD UGV TSR 202 for detection & neutralization, handling and neutralization of suspicious devices, route clearance and dangerous duty operations.
Users: police & military, EOD units, fire brigades. Characteristics: Size (with folded arm) 1.2 (L) x 0.67 (W) x 1 (H) m; Weight including army 270 kg; payload capacity of 20 kg.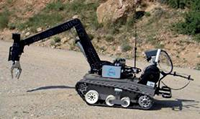 MODULES - UGV Mission Modules

ECA ROBOTICS developed a wide range of specialized payloads for Security & Defence missions, based on an open architecture and a plug & play concept. They have been designed for a variety of missions such as: Intelligence, Reconnaissance, EOD, Surveillance, Hazmat, Fire/Weaponery, selfprotection, CBRN….
Almost all of them can be fitted on ECA ROBOTICS Unmanned Ground Vehicles CAMELEON.
NAVAL PRODUCT RANGE
ECA ROBOTICS promotes a wide range of Autonomous and Remote controlled Underwater and Surface Vehicles (AUV, ROV, USV).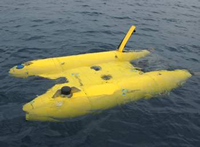 ALISTER - Autonomous Underwater Vehicle Range consists of Autonomous Underwater Vehicles designed for different missions for Hydrography, Oceanography, Homeland Security, Mine Counter Measures, Rapid Environment Assessment, Confined Area Inspection, High Resolution Seismic Survey and Sediment Analysis to name a few.

They differ in body form (single and twin), diameter/size (9 to 27 inch for the mono bodies), and embark different payloads/sensors depending on the mission profile.
The resolution of subsea images differs as well as in endurance. Customers are able to choose between the portable version AUV ALISTER 9 and multi-mission, long endurance AUV ALISTER 27. One additional AUV for Deep Offshore, ALISTAR, 3000m depth rated and especially designed for pre and post pipe survey, TDM…
ROV SYSTEMS
ECA ROBOTICS covers a whole range of Remote Controlled Subsea Vehicles starting off with H300 MKII, an Inspection ROV, depth rated to 300m.
Withstands sea currents up to at least 3 knots. High performance viewing system, with both a colour/zoom TV camera (mounted on a full Pan/Tilt unit) and a B/W very low light TV camera. High level of modularity, with a wide range of optional sensors and tools, mounted on the ROV itself or on interchangeable skids: all types of sonars (side scan sonar, imaging sonar…), altimeter (with auto altitude function), GPS, high resolution digital still camera, manipulator arm, metal detector. Comes with: Single, ergonomic hand controller for both the ROV and a 5 functions manipulator arm; Control unit incorporating the power supply unit, and offering a PC screen with either video only, or the combination of video, sonar display and digital still control; Ease of handling and installation on board of ships, due to compact size and reasonable weight.
Dimensions (mm) : 900 (L) x 600 (W) x 470 (H) ; 70 kg excluding optional equipment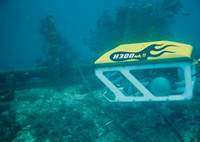 H800, ROV designed for subsea inspection and light work with 800 m depth rating. It is equipped with six very powerful thrusters, a high performance viewing system. It is com-pact in size, modular and flexible design (options and skids simple to add) and features an easy access to all sub-systems for maintenance purposes.
Dimensions: 992 (L) x 720 (W) x 551 (H) ; 99 kg excluding optional equipment.
H1000 - Light Work Class ROV depth rated to 1000m
Optimized design for Inspection and work ; it is equipped with six very powerful thrusters, high performance viewing, instrumentation and navigation systems, two manipulator arms (5 functions and 4 functions) and a set of hydraulic tools. It exists in 2 depth versions:
- 1000m, with TMS and LARS
- 300m, with deadweight on umbilical cable
Dimensions: 1340 (L) x 1090 (W) x 1000(H) ; 525 kg

H2000 - Work class ROV for exploration, localization, assistance and intervention, depth rated to 2000m
Compact in size and air-transportable; open frame structure and modular design; equipped with six very powerful thrusters, high performance viewing, instrumentation and navigation systems, two manipulator arms (7 functions and 5 functions) and a set of hydraulic tools ; delivered with TMS and LARS.
Dimensions: 2000 (L) x 1240 (W) x 1150(H); 900 kg
ROVING BAT - Hybrid free-flying ROV and crawler for Inspection and Cleaning, capable of reaching a target in free-flying mode, completely tilting up or rolling to one side and then sticking to any vertical or inclined surface, as well as moving along any surface in crawling mode to run a close inspection. Key feature is a very strong thrust which permits to operate in severe conditions. The primary applications are: hull inspection of ships for detection of uncleared objects, hull inspection and cleaning of FPSO or vessels and inspection of immersed structures.
Dimensions: L 1105 x W 1085 x H 646 mm including transponder & lifting bail; Weight in air: 135 kg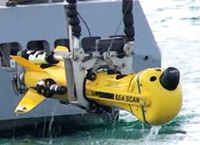 SEA SCAN - Underwater Inspection Vehicle for Precise Image Acquisition
ROV for stable and fast real time accurate underwater inspection of the seafloor and all kind of immersed structures. Is operational from any non-dedicated platform, at short or long range, in shallow or mid water.
Is used for salt and freshwater operations, especially for high resolution subsea structure image acquisition, accurate pipe and dam survey, leak and crack investigation, hull and pier inspection (anti-piracy and anti-smuggling). Features: rotating head for 180° observation, wide choice of sensors for 2D and 3D imaging and fitted with an acoustic transponder for accurate localization. Operational in strong current (at open sea and in pipelines). Dimensions: 1500 L x 230 diameter; 50 kg slightly positive boyancy 300 m depth rated (deeper on request).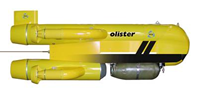 OLISTER - Subsea Mine hunter
The system exists in two different configurations, FDS (Forward Detection Sonar) and MIDS (Mine Identification and Disposal system).
Used for Mine Hunting missions ahead of the ship, detection and classification of ground and moored mines on the continental shelf, seabed survey and investigation, relocation, identification and destruction of ground and moored mines. Mid-water or seabed inspection.
It features a very low magnetic and acoustic signature, 3-D automatic piloting and high hovering capability for identifying sea bottom objects in harsh conditions.
Large payload capacity: NATO explosive charge, manipulator arm, sonar payload.
Reduced through-life maintenance costs.
Dimensions: L 3100 x W 1100 x 1100 mm H; Weight 600 kg
PAP MK5 - Subsea Mine Identification & Destruction System
Underwater vehicle for the identification and destruction of bottom-laid and tethered mines.
More than 500 units of the PAP system are in service with 20 navies throughout the world.
PAP vehicles have completed more than 45,000 runs including many successful combat missions in the Red Sea, Falklands, Persian Gulf…
By means of a guide-rope, the vehicle navigates in mid-water or at a constant altitude above the seabed. It is fitted with camera and/or sonar for visualisation and identification purposes. The mine is destroyed by the explosion of a 120 kg NATO charge and/or by cutting the mooring rope.
USV SYSTEMS
INSPECTOR Range - Unmanned Surface Vehicle (USV)
Unmanned Surface Vehicles INSPECTOR differ in size, in body structure and in payloads/sensors depending on their use as Remote Controlled Target for fleet training (INSPECTOR MK1), Imagery and bath-ymetric Survey (INSPECTOR MK2), Mine counter Measures or Maritime Interdiction Oper-ations.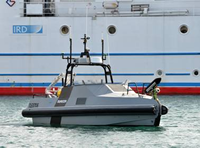 INSPECTOR Mk1 is a 7 meter RHIB, easy to deploy USV, developed for Navy crews training in self-defense against asymmetrical threats and for development and certification of weapon systems. The very shallow draft with a mass of only 2100 kg and equipped with 250 HP inboard Turbo Diesel engine with propeller speeds it up to 35 knots.
Operational up to SS3.
INSPECTOR MK2 - Imagery & Bathymetric Survey
Features a very shallow draught and one patented rotary bow arm for shallow and very shallow water survey, detection and classification, Littoral and inshore hydrographic op-erations, Harbor and Offshore assets survey and protection. High endurance at sea and very reliable. Aluminum Rigid Hull; Dimensions (L x l) : 8.40m x 2.95 m (2.55 in transport configuration); Draught of 0.5m Weight: 4700 kg (including 1000 kg payload); 2 diesel hydro jets (2 x 170 to 215 kW) with speed ranging from station keeping to 25 kts in transit.Operational to sea state SS4. Fully automatic, remotely controlled, or manually piloted. The Rotary bow arm allows the deployment of various acoustic sensors MBES/SSS/ADCP/IMU/SVP.
INSPECTOR MK2 - Maritime Interdiction Operations
Main missions of this easy reconfigurable USV are Intelligence, Surveillance and Recon-naissance, Anti-piracy, Anti-smuggling and Anti-pollution, Permanent littoral patrolling, the protection of commercial shipping routes and search and rescue operations.
Dimensions (L x l): 9.20m x 2.95 m (2.55 in transport configuration); 0.6m draught; Aluminum Rigid Hull, speed up to 38 knots; Autonomous, Remote controlled, Manually piloted, Sea state : Operation: up to SS4 / Survivability: SS5.

MANIPULATOR ARMS

ARM 5E - 5 function ELECTRIC manipulator arm for underwater intervention, manipulation, object retrieval, nuclear environment operations and EOD.
Modular construction for easy maintenance and repair on deck. Optional: Oil free version for 300 m depth rating. Lifting capacity of 25 kg, slew 120°, jaw pressure 60 kg, continuous jaw rotate, elevate 90°, elbow bend 145°.
Depth rating: 6000 m

ARM 5E Light-weight - 5 function ELECTRIC manipulator arm for underwater intervention, manipulation, object retrieval and EOD. Operational in sensitive environment (Zero Oil system). Lifting capacity of 12 kg, slew 120°, continuous rotation, elevate 85°, elbow bend 130°, reach 1 m. Depth rating: 300 m

ARM 5E mini - an ecological (Zero Oil System) five function Electric manipulator arm of only 15 kg (33lb) in water with a lifting capacity of 25 kg (55lb). This manipulator is powered by a brushless 24 - 36 VDC electric motor and features a reach of 850mm radius and a slew of 120°. It fits on inspection class ROVs and is mounted in the same footprint as a hydraulic arm. It also provides dedicated skids to fit to customer requirements. No need for a valve pack or HPU. Depth rating: 300 m

ARM 5E micro - five function electric micro manipulator arm for very light ROVs.
Only 2.5 kg (5.5lb) in water with a lifting capacity of 10 kg (22lbs), a reach of 640 mm radius and a slew of 120° this manipulator is powered by brushless 24-30 VDC elec-tric motors. Zero Oil System. Slew 120°, jaw opening of 125 mm @ the tips, continuous rotation, elevation 90°, elbow 132° reach 640 mm and lifting capacity of 10 kg.
Depth rating: 300 m

ARM 7 H- 7 function HYDRAULIC rate or position manipulator arm
Full 7 function capability with rate/position feedback options with simple mounting and protected hose runs. 38 kg (83 lb), slew 180°, elbow 105°, forward rotate 350°, lifting capacity 90 kg, jaw open 150 mm, closing force 50 kg. Features modular design for easy repair and maintenance. Depth rated to 7 500 m.