ATLAS ELEKTRONIK GmbH
ATLAS ELEKTRONIK GmbH As a leading naval electronic house ATLAS ELEKTRONIK stands for maritime and naval solutions both above and below the surfaces of the world's oceans. With the help of technical innovative products the electronics specialist encounters the conventional and asymmetric challenges of the maritime sector and increases safety of harbours, coastlines and trade. The company with its headquarter in Bremen was founded in 1902 and is now a joined company of ThyssenKrupp and EADS with more than 1700 employees.
ATLAS ELEKTRONIK holds an undisputed "pole position" in all fields of naval technology. With an extensive world-wide customer base ATLAS ELEKTRONIK supplies the complete product range based on the "sensor-to-shooter" concept divided into the sections of Surface Vessel Systems inclusive Mine Counter Measures, Submarine Systems and Services. The portfolio implies:
All variants of sonar systems for submarines, antisubmarine warfare and minehunting
Integrated command and control systems for submarines, surface vessels and mine countermeasure boats
Heavy-weight torpedoes and small size anti torpedo weapons
Mine disposal vehicles and AUV's
Submarine Systems:
ISUS 90 - Submarine Combat System
The ISUS 90 Submarine Combat System is an advanced and sea proven fully integrated sensor, command & control and weapon engagement system. It integrates the acoustical sensors with optical and electronic sensors to allow for a comprehensive command and control in the submarine system, as well as control of long range, wire guided torpedoes and missiles.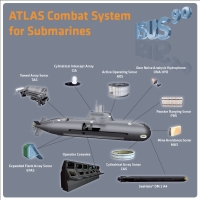 As the only company in the world ATLAS ELEKTRONIK is able to deliver all components of a modern Submarine Combat Suite including heavyweight torpedoes and torpedo counter measures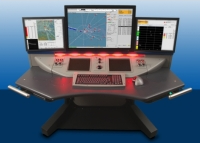 Multifunction Console OMADA with ANCS (Combat Management Scenario)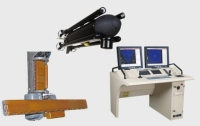 The image shows the SeaFox C, a fibre-optic guided, one shot mine disposal vehicle with the sonar antenna HMS-12M and the IMCMS Multi Function Console (MFC)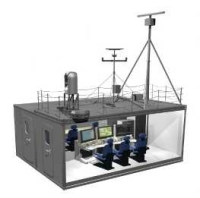 ATLAS ForcePro is a system for the fusion of all Information (optronic, sonar and radar sensor) in a certain area of a terroristic/asymmetric threat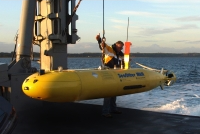 The AUV SeaOtter MkII at service trial for WTD 71 (German Navy) for testing sonar sensors
Systems for Surface Ships:
ANCS - ATLAS Naval Combat System
The company provides command and control systems for OPVs, corvettes and frigates as well as integrated navigation systems. The Atlas Naval Combat management System (ANCS), our latest-generation combat system, has a modular design that allows it to be adapted to all customer requirements, and has all required interfaces to sensors, shooters and communication facilities. This in turn ensures its integration in a full network-centric warfare (NCW) configuration.
IMCMS - Integrated Mine Countermeasures System
The ATLAS Integrated Mine Countermeasures System (IMCMS) is a multirole MCM Weapon System which covers the complete process of Mine Warfare including Minesweeping, Minehunting and Minelaying as well as supporting functions such as hydrography, environmental assessment and surface and air surveillance. The system is based on open architecture and is operated from multi-function consoles allowing the control of each sub-system, such as the hull-mounted sonar, the self-propelled variable depth sonar, the autonomous underwater vehicle and the remotely controlled surface drones.
SeaFox - Mine disposal system
The SeaFox system is a mine disposal system which is based on the "Expendable Mine Disposal Vehicle" principle (EMDV). The SeaFox I, a small, reusable and unmanned underwater drone, is used for inspection, identification and training purposes, while the identical combat vehicle SeaFox C directly disposes long and short tethered mines, proud ground mines and floating mines. The four independent, reversible motors plus one hover thruster ensure high manoeuvrability and exact positioning for firing the shaped charge.
ForcePro - Protection against terrorists and other asymmetric attacks
ATLAS ForcePro System offers the possibility of building up complete sensor-weapon chains, fusing all information from surveillance radars, optronic surveillance systems, and diver detection sonars. The ForcePro is based on the ANCS-technology and can be used against piracy, smuggling, terrorist or other asymmetric threats. Moving targets can be displayed on the land and sea map display, while the functional sensor-to-shooter chain ensures the capability for rapid action against threats from land, air, sea and underwater.
Services:
In-Service Support
ATLAS ELEKTRONIK provides a continuous support effort which is based on an individually tailored balance between the three key factors: affordability, availability and capability. The In-Service Support covers all areas, from hot-line support through engineering and on-site services, spares, training and documentation services. All services are also offered for external products.