Smiths Detection
To protect those in the front line and the public at large, Smiths Detection provides government regulated technology products and advanced services, to security experts and governments worldwide. We detect and identify CBRNE material and other dangerous or illegal objects.
Contact information for individual markets is shown at the end of this entry.
AVIATION SECURITY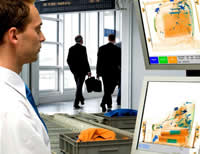 Smiths Detection products and systems help to eliminate threats at airports and on board aircraft and maintain public confidence in air travel. Our security solutions have been adopted at airports across the world, as well as applications in other mass-transit terminals. The combination of x-ray screening, trace detection and millimetre-wave scanning is unrivalled, resulting in systems to detect explosives in checked baggage, while identifying explosives, weapons and illegal items in hand-baggage or on passengers or staff.
Visit www.smithsdetection.com/transportation-security-2.html
CRITICAL INFRASTRUCTURE PROTECTION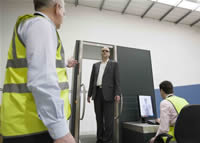 For government buildings, power generators and public buildings, Smiths Detection has developed the most comprehensive security solution available. High technology systems enhance access control checkpoints, for people, vehicles or deliveries, through to screening prison visitors.
Visit: www.smithsdetection.com/critical-infrastructure-2.html
EQUIPPING EMERGENCY RESPONDERS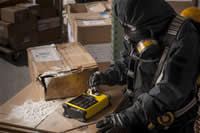 Response and HAZMAT teams, law enforcement, and federal and local government agencies around the world trust Smiths Detection's emergency response equipment. We provide them with laboratory-grade technology in easy-to-use equipment that requires minimal training - supported by the highest service levels. Portable, hand-held equipment allows the professionals to identify unknown chemicals or to detect narcotics or chemical and biological agent threats.
Visit: www.smithsdetection.com/emergency-responders-2.html
PORTS, BORDER CROSSINGS AND CUSTOMS
Smiths Detection's powerful systems have set the industry standard in cargo inspection, to reduce international shipments of contraband and discover explosives, weapons, even material for weapons of mass destruction. We meet the challenge of rapid detection without disrupting the daily flow of goods. A total solution for cargo inspection from single parcels to fully loaded sea freight containers.
Visit: www.smithsdetection.com/ports-borders-2.html
MILITARY SYSTEMS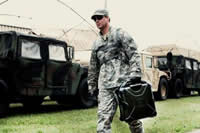 Over a period of more than 50 years, Smiths Detection has developed a partnership with the military that has resulted in a range of products to protect armed forces from attack by chemical or biological agents. Protection from today's threats requires the highest manufacturing standards possible, easy-to-use equipment in life-and-death situations, and the capacity to minimise false detection alarms. Smiths Detection products provide the highest level of confidence in battlefield and security situations.
Visit: www.smithsdetection.com/military-2.html
Contact information, please contact the office appropriate to your market:
Americas:
USA:
T: +1 203 207 9700
usa@smithsdetection.com
Latin America:
T: +1 203 207 9700
latinamerica@smithsdetection.com
Canada:
T: +1 905 817 5990
canada@smithsdetection.com
Brazil:
T: +55 (0) 11 3074 0270
brazil@smithsdetection.com
EMEA:
Non-Military Sales
T: +49 (0)611 9412-0
europe@smithsdetection.com
Military/ER Sales
Also sales to UK & Ireland
T: +44 (0)1923 658000
uk@smithsdetection.com
Sales to Iraq, Jordan, Kuwait, Saudi Arabia, UAE, Yemen
T: +9714 2998222
middleeast@smithsdetection.com
Asia Pacific:
T: (65) 6 466 1700
asiapac@smithsdetection.com
General enquiries:
info@smithsdetection.com